16 novembre 2008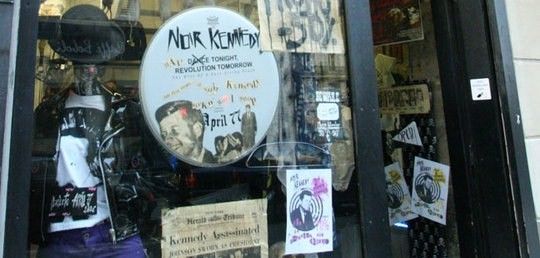 Do you know the shop Noir kennedy ? No ?
Man, you miss something !
Noir kennedy has three shop, two in Paris and one in Bordeaux. If you are in Paris a day, go to Noir kennedy, you will see, it's very rock and cheap. You have brand as April 77, Cheap Monday, Hells Bells, Members Only, Levis and many others...
Do you like ?
Go to : 22, rue du Roi-de-Sicile, 75004 Paris.
or here.

New song in the kavinsky's myspace, the remix of Roche of Sebastien Tellier.
Still a beautiful song, in the hype of the french touch.
15 novembre 2008

Hello man, hello girl.
You are welcome on Lookthisbook,
But what's it ?
Lookthisbook is a canalblog write in english by a french who want to share what he likes.
Why in english ? You are so bad in french ?
Not enough to be incapable of writing in french but I find interested to you and me.
Why ?
Because we are in a universe more and more touched by the globalization and it's a way to share this language next to school.
Share this language, of course but what else ?
Music, cinema, clothes and many others are for the program.

I see, and who are you ?
A student who is 17 and wants to come in an Art School in two years.